Your Guide to
Business
Success
in Cairo, New York
(518) 622-3120
The Gateway to the Catskills
QUESTION:
Why would a rural town of 6,670 have Retail Sales of over $53,000,000.00
ANSWER:
Because, people who travel spend money.
Thousands of people travel to and through the town of Cairo each month for both business and pleasure. With year-round scenic beauty, small town heart, and good neighbor values, our town is the perfect place to start a new business or expand your existing enterprise.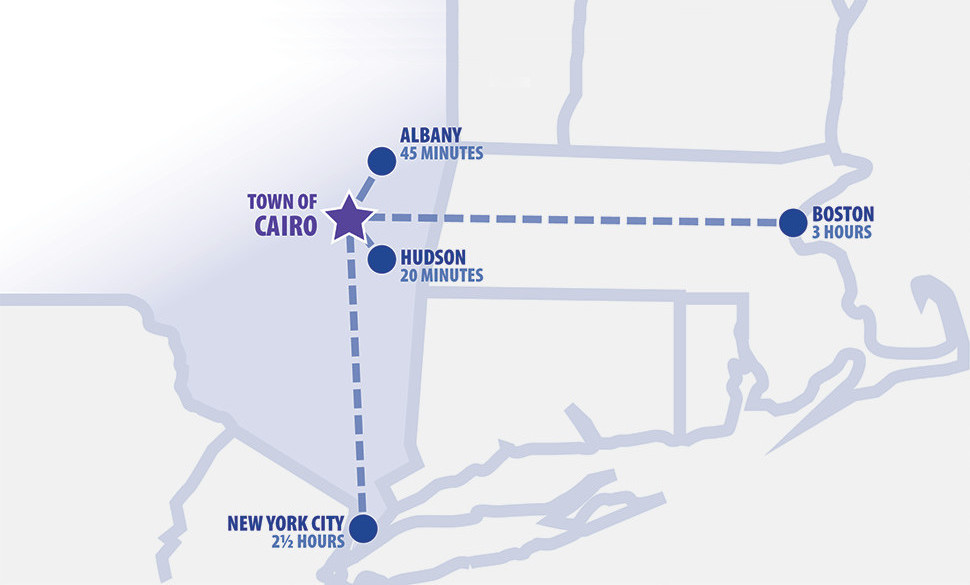 A Perfect Balance of Main Street Americana and Central Location
The town of Cairo is the crossroads of Greene County at the convergence of NYS Routes 23, 32 and 145. Just 45 minutes south of Albany, and 20 minutes west of Hudson, Cairo is only 2.5 hours from New York City and less than 3 hours from Boston.
We are the heart of Greene County, situated perfectly between with the Hudson River to our east, and the Great Northern Catskill Mountains to our west. We invite you to explore a wide variety of business and consumer opportunities with a solid infrastructure, a ready workforce, and affordable residential and commercial properties.
If your company is seeking a family focused community, with a small-town heart and good-neighbor values, the town of Cairo is the place. If your business is seeking a place to grow in spectacular natural surroundings with access to major thoroughfares, our town is ideal.
Main Street
NYS Rt. 23B becomes Historic Main Street Cairo between Mountain Avenue at the south east and the Jerome Avenue fork at the north west. A true slice of Americana, the heart of our town supports a variety of professional businesses, with ample opportunity for expansion of niche retail shops, B&Bs, specialty food outlets and Cafes.
Route 23 Business Corridor
Running northwest from the intersection of Greene County Rt. 23B and the Bross Street crossing, Cairo's Rt. 23 Business Corridor is the growth area of our town. It is anchored by two bank branches, convenience, retail, and professional businesses on the south east, includes the crossroads of NYS Routes 23 & 32 and bisects over 150 acres ready for development. Business and leisure traffic through this corridor make it ideal for Family-Style Restaurants, Retail/Outlet Centers, Light Manufacturing and Distribution Centers, or a Business Complex with associated Hotels and amenities.
Round Top
Round Top has provided visitors with the quintessential Catskill Mountain German Resort experience for over 100 years. Vacationers escaped the heat in Summer, immersed themselves in the spectacular colors of Fall, found a host of Winter activities, and took in the blooms and great fishing streams of Spring.
Today Round Top is home to both multi-generational family destinations and newly revitalized hipster hotels.
Find Your Ideal Business Location in Cairo, NY
5 Acre Lot on NYS 32N
$70,000
Less than 1,000 feet to the major intersections of New York State Routes 23 and 32, we are begging for development! Put your drop ship business, storage unit facility, restaurant, strip mall idea here, relocate your trucking company with a new facility and excavate the shale bank.. With high exposure and publicity comes higher profits and with a value like this the road to success starts here!
189 Main Street
$324,900
An Extraordinary Commercial Location in Cairo in the center of Greene County at the crossroads of Route 23B(Main St) and Route 32 in the business district on Main St. There are two parcels being sold together for a total of 1.45 acres. There is approximately 840′ of road frontage on Route 23B and on Route 32. The parcels are at the triangle where Hannaford and Cumberland Farms are located. A former service station and a brick residence with a small barn. The residence is 2,484 sq ft and the commercial building is 2,402 sq ft. It's a Great Opportunity and a Great Investment!
845 Main Street
$799,000
Established & highly popular restaurant. This is an incredible opportunity for you to own a successful restaurant nestled in the beautiful Catskill Mountains. This property has endless possibilities – retail, restaurant office space living space, or all of the above.
The kitchen is fitted with commercial grade equipment that includes a hood system, a walk in cooler, a large grill, an oven range and flat top, several refrigerators,char broiler , fryers, pizza oven, ice machines.
This building is meticulously maintained with up to 7000 sq feet of usable space. Plenty of parking located on 5.74 acres, electric, water & septic is available for campers.
Connect with a Greene County Realtor for Commercial and Residential Properties in Cairo, NYConnect Now
A Four-Season Destination
The Great Northern Catskill Mountains form the backdrop for year-round activities in our lovely valley town.
The hamlets of Purling, Round Top, and Acra offer spectacular hiking, hunting, and fishing in the pristine streams that flow the Catskill Creek, and then to the Hudson River.
Great road and mountain biking opportunities abound at our Town Loop and Rail Trail.
Two world-class ski resorts are just up the mountain in Windham and Hunter.
The town maintains a water distribution system that serves the hamlet of Cairo from two wells registered with the New York State Water Authority. The primary well is located within the Town Park and pumps an average of 90,000 gallons per day (GPD) with a capacity of 240,000 GPD. The water district encompasses 380 parcels covering 606 acres. Approximately 300 service connections deliver water to a population of 725. The secondary well serves as an emergency back-up source for continuity of service during a temporary disruption of the main well. Expansion is underway with the testing of new well sites, planning for an additional pressure tank and wider system reach.
The Cairo Collection and Treatment system was built in 1999, and serves 286 properties over 317 acres in the hamlet of Cairo. A waste water treatment system designed to process up to 89,000 GPD of grey water from homes and businesses, normally operates at less than 90% capacity, with enough headroom to accommodate periods of high precipitation. The town performs regular maintenance of collection lines and pump stations, displaying a willingness to accommodate expansion through new residential & commercial connections.
We're Ready to Help Make Cairo, NY Your New Home
Cairo New York - Gateway to the Catskills
Download your complete guide to starting a business in Cairo, NY!
Thousands of people travel to and through the town of Cairo for both business and pleasure.
With year-round scenic beauty, small-town heart, and good-neighbor values, our town is the perfect place to start a new business or expand your existing enterprise.
Or Call 518-622-3120 ext.113 today for more information.
Who doesn't love delicious and delightful treats? Delightful Bites by Nina opened its doors at 597 Main Street in Cairo, NY to give their customers that wonderful unforgettable feeling of the first bite of a perfect treat. Nina Heath's motto…