A 140-year story of evolving business opportunities in the Town of Cairo, NY
Amid arguably one of the most challenging years for business in the last century, Tim Cornelison, his father (Tim, Sr.) and his team created a new destination for locals and visitors alike by renovating and repurposing the buildings and grounds of a 1.6 acre site in the heart of the Crossroads of the Catskills.
Originally from Saugerties, Tim and his dad acquired the property in 2015 and produced water treatment systems and equipment. They operated this business until July of 2019, when they recognized the significant opportunities for success in a booming craft beverage market, and began work on the transformation from factory/warehouse to brewery/event space.
Their goal was to not only outfit a productive brewery capable of crafting, fermenting, kegging, and canning up to seven 10-barrel (310 US gallons/barrel) batches at any given time, but to create an authentic space for people to gather and enjoy each other's company, live entertainment and great craft beverages.
By the end of 2019, they were ready to begin the interior build-out, starting with the brew room, but the realities of 2020 caused a re-think and refinement of the layout of the bar/event space to enable the business to operate profitably and safely under social distancing, and gathering limitations.
Rewind Back to the Gilded Age
The site itself had been created to address another opportunity during the latter part of the 19th century when James LeRoy Jacobs, like many before him, was striving to live the American Dream.
Around 1880 he moved his family from the tiny hamlet of South Durham, Greene County, to nearby Cairo, because of the tremendous business potential he saw there. It was a common occurrence for Cairo's population to double in the Summer months. Hordes of visitors from New York City's Metropolitan area, the New England states, New Jersey and beyond, came by boat, train and coach to spend a relaxing vacation in the Catskills.

The month of August found people flocking to Cairo for the annual Greene County Agricultural Fair. The event drew thousands to see the horse races and sample the best home baked goods in the county. Jacobs surmised that, with all those summer guests, came summer thirst. Bottling beverages, such as mineral water and tasty flavored sodas, was sure to be a hit.
It was November of 1880 when Jacobs commenced his ambitious plan on the site of a former blacksmith shop. The Walters brothers, Francis and Ambrose had established a bottling business there the previous year, but opted to sell it, to concentrate on running their prosperous mid-town hotel. The source of mineral water for Jacobs was a deep hand-dug well, tapping a natural spring running under the property.
Four short years later, the Catskill Mountain Railroad brought a branch line into Cairo from Catskill Point. This not only created freight revenues for the railroad, but increased passenger travel to town. Farmers were adding rooms to accommodate the influx and Jacobs products were becoming popular throughout the area. Business boomed.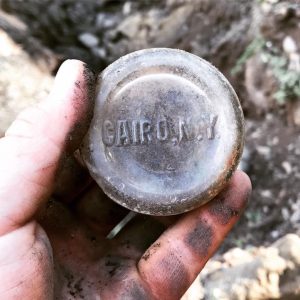 Empty bottles were brought up from New York City by barge, then conveyed to town from Catskill Landing via train to the Cairo depot and from there by horse and wagon to the bottling works. Filled on premises by steam driven-machines, the products were placed in wooden crates and loaded on wagons for delivery to local boarding houses, hotels and general merchants.
Around the mid 1930's the Coca-Cola Company experimented with a franchise in Cairo. They supplied the familiar light green tinted hobble-skirt bottles, as well as a very specific and secret formula their popular drink. According to discussions with local seniors and examination of correspondence, it seems there was a breach of contract by selling in unauthorized locations and the company terminated privileges and demanded return of all unused containers. An occasional bottle from this period surfaces, bearing the unusual patent date of "Dec. 25, 1923" thus being dubbed the "Christmas Coke."
Two other unusual soft drinks were bottled in Cairo during this period. Brownie, a chocolate soda bore a strange elf-like creature on its clear container and the patent date of Feb. 23, 1926 on the bottom. Another was Whistle, described as "the liquid food," a tasty orange drink offered in a tall curvaceous bottle with an embossed web-like texture.
Cliquot Club based in Millis, Mass. eventually absorbed the Cairo plant in 1948. A large variety of flavored sodas with the familiar Eskimo boy pyro-glazed on the front, were offered in clear and dark green bottles of various sizes. Vichy water and Topper brand beer became big sellers with local resorts.
By the late 1960s, competitive forces crept up on small bottlers all across America. Large companies such as Coca-Cola, Pepsi and Seven Up built massive advertising campaigns. They also successfully introduced the concept of throw-away containers into the American consciousness. This produced further economies of scale and distanced them from their nearest competition. Small local bottlers were fast becoming inefficient and eventually obsolete, symbols of a hard-working past.
In 1968 the brick building closed its doors and went into a state of decay. Local youths roamed its grounds and broke windows. Passers-by wondered about its future, knowing of its active past.
Back to Beverages in 2020
As the year drew to a close, Tim and his crew prepared to open and welcome their first patrons in Mid-December. With the equipment in place in the brew-room on the other side of windows into the main space, 10-Barrel batches were fermenting, and the work turned toward the bar.
The high ceilings and openness of the main room lend itself perfectly to a 100' long custom bar with a poured epoxy top.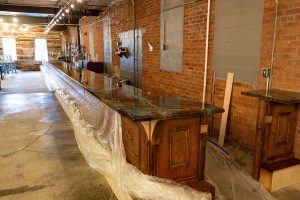 The exterior 'Front Porch' features a 90' wrap-around deck bar perfect for multiple small groups or couples who prefer to be outside.
Sandblasting revealed the original brick walls, and recycled pallet wood is artfully incorporated into the front window interior.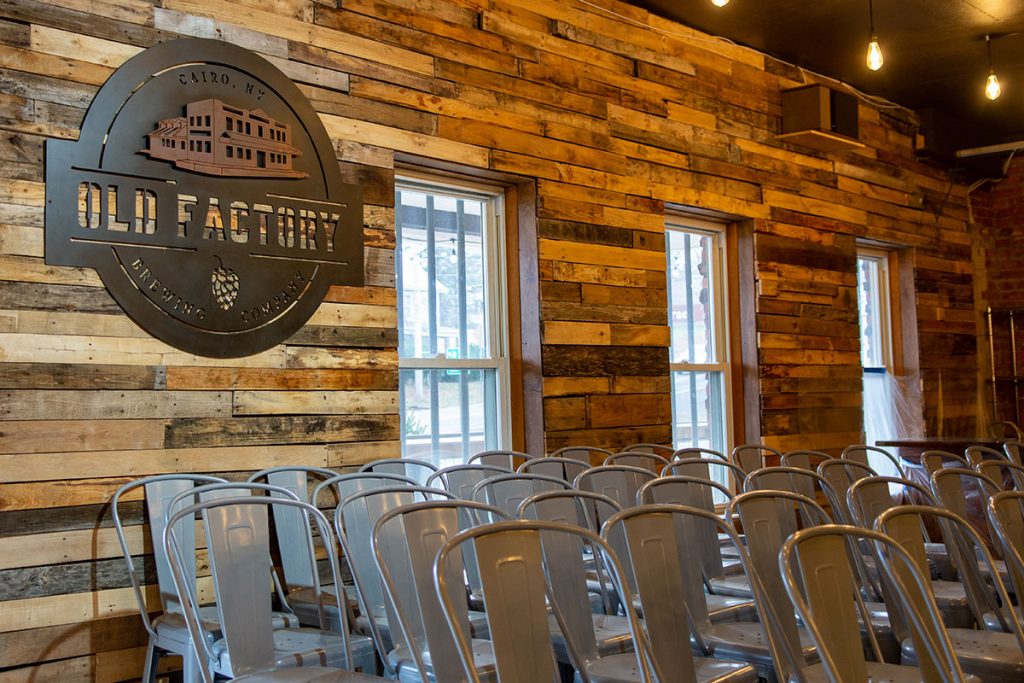 The main room connects directly to the brewhouse with raised patio sliders, forming pass-through windows and giving patrons an up-close view of the fermenting, chilling, & canning process (as well as a signature epoxy floor).